Grade 5 entails a  new level of responsibility – both academic and social – and a commitment to taking ownership of their learning; something that is challenging for people of any age.
How old are students in Grade 5?
To enter Grade 5 a student needs to have turned 10 by September 1st
What will my child learn in Grade 5?
Al Batinah International School (ABIS) follows the IB PYP Programme from grades K1-Grade 6.  The programme has a child-centred, inquiry-based approach and uses well established and highly regarded research-based evidence in how children learn as its philosophical base.  ABIS gained authorisation to implement the PYP in 2011. We have just completed a Self-Study and  have received PYP Reauthorization in 2014.
The ABIS Maths Curriculum is based on  the New Zealand Maths Programme. This programme includes the following strands
NUMBER and ALGEBRA
Number strategies
Number Knowledge
Equations and Expressions
Patterns and Relationships
GEOMETRY and MEASUREMENT
Measurement
Shape
Position and Orientation
Transformations
STATISTICS
Statistical Investigations
Statistical Literacy
Probability
Transparent
We want to involve Parents in the their child's learning.
Student Centred
Your child at the centre of our world.
Mission Driven
A not-for-porfit school driven to achieve its Mission.
Grade 5's PYP Units of Inquiry are a good balance between science-based units and social studies-based units.  Units of Inquiry run between 6 to 8 weeks and are designed to allow students to  be stakeholders in what they learn.  The teacher is there to facilitate, challenge and focus the learning and ensure rigour.  Here are titles and central ideas of what we will be studying in Grade 5:
Who We Are
Understanding and managing stress
helps us to positively respond to challenges.
How We Organize Ourselves
Globalization increases the interconnectedness of people, economies, and nations.
Where We Are in Place and Time
Exploring our place in the universe impacts our lives on Earth.
How The World Works
Through the principals of force and motion, machines make tasks easier.
Sharing the Planet
Finding peaceful solutions to conflict leads to a better quality of life.
How We Express Ourselves
Creating and responding to art develops
understanding of ourselves and the world
around us.
Units of Inquiry integrate Maths, Science, Social Studies, Language and the Arts. Please look at the ABIS Curriculum website to see how these curriculum areas are addressed during Units of Inquiry.
ABIS uses the PYP Language Scope and Sequence curriculum document. Language is divided into 4 strands and the overall expectations are as follows:
SPEAKING and LISTENING
Learners understand the difference between literal and figurative language; how to use language differently for different purposes. They are aware that they are building on their previous experiences and using language to construct new meaning.
READING
Learners understand of the strategies authors use to engage them. They have their favourite authors and can articulate reasons for their choices. Reading provides a sense of accomplishment, not only in the process, but in the access it provides them to further knowledge about, and understanding of, the world
WRITING
Learners understand the conventions pertaining to writing, in its different forms, that are widely accepted. In addition, they demonstrate a high level of integration of the strands of language in order to create meaning in a manner that suits their learning styles. They can analyse the writing of others and identify common or recurring themes or issues. They accept feedback from others
VIEWING and PRESENTING
Learners engage with an increasing range of visual text resources. They explore viewing and presenting strategies that are a part of their learning environment, they select and use strategies that suit their learning styles. They make connections between visual imagery and social commentary. They show more discernment in selecting information they consider reliable. They are able to use visual imagery to support a position.
Acquisition of more than one language enriches personal growth and helps promote international understanding. ABIS provides Arabic as an Additional Language to Primary students. Also, ABIS believes that the continued development of home languages is enriching and vital to a child's overall language development. That is why children are welcome and encouraged to read, write and speak in their home languages in school and at home.
Across the primary school, the Arts – visual and performing – are essential and integral to the ABIS school community.  Music and Dance are offered by specialists.  Music strands consist of:
PERFORMING
CREATING and COMPOSING
NOTATION
LISTENING and APPRECIATION
Dance strands include:
COMPOSITION
CHOREOGRAPHIC PRINCIPLES
PERFORMANCE PRINCIPLE
DANCE APPRECIATION
Dance and Music strive to support Units of Inquiry as well as wider community needs.
Visual Arts are incorporated into the Units of Inquiry and Maths are taught by the classroom teacher.  They both offer students experiences in a variety of medium as well as exploration of their knowledge in artistic form. Visual Arts will focus on the Elements of Art which include:
LINE ( implied lines and outlines)
SHAPE (2D space)
COLOUR (hue and intensity)
TEXTURE (real or perceived)
VALUE (lightness and darkness)
FORM (volume or perceived volume)
SPACE (distance, negative space)
Physical Education at ABIS focuses on the knowledge and skills of a variety of games and physical movement.  Taught by a specialist, it promotes the development of basic motor skills and experiences, the techniques, rules and purposes of a range of athletic activities, recognising a high level of achievement and how to improve a performance.  Physical Education recognises that regular exposure to all kinds of physical learning experiences enables students to make informed choices throughout their lives.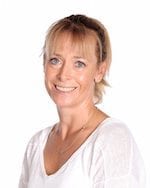 Michelle Simpson
Primary Team Leader
Michelle Simpson is our Primary Team Leader. She joined us in 2012 from New Zealand. Michelle has worked in a variety of locations and brings with her a wealth of knowledge, experience and passion. She enjoys talking with prospective parents and can be contacted via the details above.
 Challenge yourself, Involve yourself, Be your best