The Third Grade is the introductory year to the Upper Primary. This is a milestone year in which students will develop their independence and take ownership of their learning. The PYP Program sees the teacher as a facilitator and this will be reflected in the teaching and learning process. Learning this year involves social acts of communication and collaboration, where students may work independently, with partners, or in larger groups. These groups will be fluid and may change across the different learning areas. In keeping with the international- mindedness of the PYP the Third Grade class will aim to promote respect and acceptance within our multi-cultural group. Every day in class will be an opportunity to create a connection between life in school, life at home and life in the wider world.
How old are students in Grade 3?
To enter Grade 3 a student needs to have turned 8 by September 1st
What will my child learn in Grade 3?
Al Batinah International School has adopted the New Zealand Maths Curriculum as its core program. The reason for these decisions are as follows: The inquiry based, child-centered activities are completely in line with the PYP philosophy about how children learn. For the Upper Primary students the Mathematics strands are Number and Algebra, Geometry and Measurement and Statistics. Throughout the year, students will be working through learning activities from these strands. Where possible, relevant and meaningful connections can be made the activities will be offered through the lens of the Units of Inquiry. However, the PYP recognises the importance of teaching fundamental mathematical skills and as such, many lessons are "stand alone."
During Grade Three we will be exploring six units of inquiry. Each unit will develop over six weeks. The units of inquiry for the year will use a balance of Science and Social Studies approaches. The first unit falls under the Transdisciplinary Theme on Who We Are, and will study the amazing wonders and functions of the HUMAN BODY. This Science topic will involve research and measurement. The second unit is DOLLARS AND SENSE. This unit explores how money allows for the exchange of goods and services within a local and global economy. The students will learn the skills of self- management and Social thinking. The third unit on WATER falls under the Transdisciplinary Theme of Sharing The Planet. It focuses on water as a finite resource that sustains all life. Students will explore ACTION in the form of taking a pledge to use water responsibly and being aware of the growing global concern to conserve water. Our fourth unit is on MIGRATION, and this unit investigates the causes of human migration across the globe and it's effects on individuals and societies. This unit is particularly relevant to our students when they answer the guiding questions on how people adapt to living in new countries.
Our
 fifth unit for the year, OFF THE DRAWING BOARD, will be an inquiry into how inventions and innovations arise from meeting needs and solving problems. Our last unit on ARTISTIC EXPRESSIONS will be a creative unit showing how people express themselves through the visual and performing arts.
Transparent
We want to involve Parents in the their child's learning.
Student Centred
Your child at the centre of our world.
Mission Driven
A not-for-porfit school driven to achieve its Mission.
Language: Speaking and Listening, Reading, Writing and Viewing, permeates the whole primary school curriculum. PYP schools have a special responsibility to ensure that all students are provided with the language environment and support to enable them to participate fully in the school environment. Acquisition of more than one language enriches personal growth and helps promote international understanding. ABIS provides Arabic as an Additional Language to Primary students.
Performing Arts – Music and Dance – are offered by specialists.  Music strands consist of Singing, Playing and Listening and Responding.  Dance strands comprise choreographic principles, performance principles and dance appreciation.  Dance and Music strive to find authentic connections to Units of Inquiry as well as provide support for wider community needs.
Physical Education at ABIS focuses on the knowledge and skills of a variety of games, and physical movement. It promotes the development of basic motor skills and experiences, the techniques, rules and purposes of a range of athletic activities, recognising a high level of achievement and how to improve a performance. Physical Education recognises that regular exposure to all kinds of physical learning experiences enables students to make informed choices throughout their lives. The Physical Education curriculum allows us to collaborate with the PYP classroom units.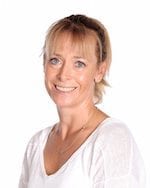 Michelle Simpson
Primary Team Leader
Michelle Simpson is our Primary Team Leader. She joined us in 2012 from New Zealand. Michelle has worked in a variety of locations and brings with her a wealth of knowledge, experience and passion. She enjoys talking with prospective parents and can be contacted via the details above.
 Challenge yourself, Involve yourself, Be your best