Grade 2 is an important year both developmentally and academically. This is their final year within the division of Early Years at  ABIS. During this time, students will not only be learning curriculum content but will also be learning various Transdisciplinary Skills and processes which will help them inquire and learn with increasing independence. This budding independence will ease their transition into the Primary Years beginning in Grade 3.
These procedures include, but are not limited to, the Inquiry Cycle and The Writing Process. As the year progresses, you will see these procedures in action and note that their use is not necessarily confined to one curriculum area, but can be applied in more than one aspect of student learning.
We will also be focusing on the Transdisciplinary Skills. These are a part of the I.B.'s Primary Years Program (the PYP). These skills can be applied across the curriculum areas. Students will become increasingly familiar with these skills in order to be aware of not only what they are learning, but also how they are learning it, and why they are learning it.
How old are students in Grade 2?
To enter Grade 2 a student needs to have turned 7 by September 1st
What will my child learn in Grade 2?
ABIS is using the New Zealand Maths Programme. Grades 2 and 3 are following Level Two of the program which includes the following strands:
NUMBER and ALGEBRA
Number strategies
Number Knowledge
Equations and Expressions
Patterns and Relationships
GEOMETRY and MEASUREMENT
Measurement
Shape sorts
Position and Orientation
Transformations
STATISTICS
Statistical Investigations
Statistical Literacy
Probability
The following six transdisciplinary themes are considered essential by the PYP because they:
have global significance for students in all cultures
offer students the opportunity to explore the commonalities of human experience
 are supported by knowledge, concepts and skills from the traditional subject areas but used in ways that transcend the confines of these subjects
will be revisited throughout the students' years of schooling, so that immersion is broad-ranging, in-depth, articulated curriculum content
contribute to the common ground that unifies the curriculums in all PYP schools.
Here is a summary of what these six themes we will explore in Grade 2:
Who We Are
Human relationships including families, friends, communities, and cultures. (Cultures)
Where We Are in Time and Place
Orientation in place and time. The discoveries, explorations and humankind. (Maps)
How We Express Ourselves
The ways in which we discover and express ideas and feelings. (Drama)
How the World Works
The natural world and its laws. (Weather)
How We Organize Ourselves
The interconnectedness of human-made systems and communities. (Workplaces)
Sharing the Planet
Rights and responsibilities in the struggle to share finite resources with other people and with other living things.  (Ecosystems)
Transparent
We want to involve Parents in the their child's learning.
Student Centred
Your child at the centre of our world.
Mission Driven
A not-for-porfit school driven to achieve its Mission.
The ABIS Language curriculum includes the strands of:
Oral Communication
Written Communication
Reading
Visual Communication
These strands are addressed by Reader's and Writer's Workshop. Language lessons can include:
a mini-lesson
guided practice
independent practice
group practice
word study
teacher modeled writing and reading
Also note that development of mother- tongue language is crucial for cognitive development, and in maintaining cultural identity. We also learn Arabic which allows us access to a different language and through that access, to a different culture and perspective.
Across the primary school, the Arts – visual and performing – are essential and integral to the ABIS school community.  Performing Arts – Music and Dance are offered by specialists. Music strands consist of Singing, Playing and Listening,  and Responding. Dance strands comprise choreographic principles, performance principles and dance appreciation. Dance and Music strive to find authentic connections to Units of Inquiry as well as provide support for wider community needs.  Visual Arts are incorporated into the Units of Inquiry and are taught by the classroom teacher.  They both offer students experiences in a variety of medium as well as exploration of their knowledge in artistic form.
Physical Education at ABIS focuses on the knowledge and skills of a variety of games, and physical movement.  It promotes the development of basic motor skills and experiences, the techniques, rules and purposes of a range of athletic activities, recognising a high level of achievement and how to improve a performance.  Physical Education recognises that regular exposure to all kinds of physical learning experiences enables students to make informed choices throughout their lives. The Physical Education curriculum allows us to collaborate with the PYP classroom units.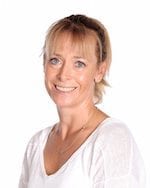 Michelle Simpson
Primary Team Leader
Michelle Simpson is our Primary Team Leader. She joined us in 2012 from New Zealand. Michelle has worked in a variety of locations and brings with her a wealth of knowledge, experience and passion. She enjoys talking with prospective parents and can be contacted via the details above.
 Challenge yourself, Involve yourself, Be your best